Man Arrested in Erwin Following Lengthy Standoff with Police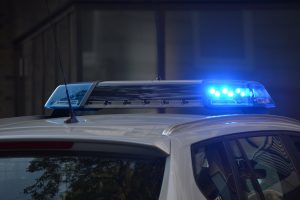 A standoff in Erwin has come to an end following nearly 7 hours of negotiations with an armed suspect on Tuesday.
According to a post on Facebook from Unicoi County Sheriff Mike Hensley, Erwin Police attempted to stop a vehicle driving on Carolina Avenue. The suspect, now identified as Stephen Honeycutt, 41, refused to stop, and kicked in a door at a residence on Chestoa Pike. Hensley said the man had outstanding felony warrants for his arrest. Officers entered the residence and found the suspect had barricaded himself in a bedroom holding a gun to his head. Lengthy negotiations took place and required response from multiple agencies including the Johnson City Police Department, the Washington County Sheriff's Department, and Tennessee Highway Patrol.
Hensley says Rev. Craig Shelton and a Washington County SWAT Team member helped negotiate with Honeycutt to put down the gun from his head. After Honeycutt complied with the order, authorities shot the suspect using a non lethal bean bag, and following a brief struggle, officers retrieved the weapon and were able to take the man into custody.
As of 8:00 Wednesday morning, charges are pending and more charges are expected against Honeycutt according to an official with the Unicoi County Jail.