Brew and ETSU: Appalachian State planning beer sales for football home opener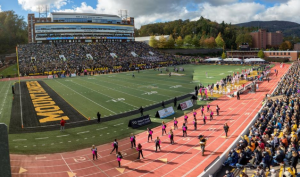 Appalachian State Athletics announced the implementation of beer sales at Kidd Brewer Stadium for the school's upcoming football season that begins next weekend with East Tennessee State visiting Boone.
Following approval earlier this year by state lawmakers, the Appalachian State Board of Trustees voted last month to seek permits to sell brews at campus athletic facilities. The university plans to use police and contracted security to patrol the stadium for potential problems including underage drinking and beer pass-offs.
(PHOTO: M. Freeman / ASU Creative Services / Appalachian State Athletics)