Greeneville Man Facing DUI, Other Charges after Crash Sunday in Greene County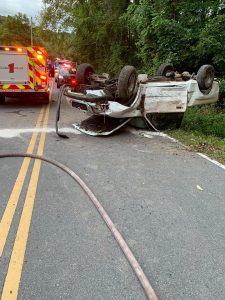 New details are surrounding an accident that occurred on the Horton Highway in Greene County Sunday afternoon.
A Tennessee Highway Patrol crash report says Larry Brown, 62, was traveling south near the Chimney Top Loop on Horton Highway, when his Mazda ran off the roadway into a ditch and flipped on its roof. Brown was airlifted to Holston Valley ER for treatment of serious injuries. The report said he was not wearing his seatbelt and faces charges that include Driving under the influence.
Courtesy of Image: Fall Branch Volunteer Fire Department