Police: Man Tried to Sell Meth to Domino's Employees, Arrested with Woman on Drug Charges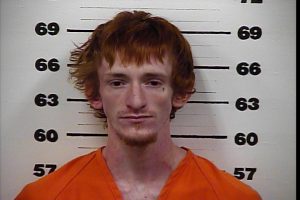 A man and woman are facing drug charges in Hawkins County after police say the man attempted to sell methamphetamine to Domino's employees.
A report from the Hawkins County Sheriff's Office says a man, later identified as Zachary Jones, was observed exiting a Domino's store in Rogersville, and getting into a truck with a woman after the alleged incident occurred. Authorities stopped the two, and as they exited the vehicle, the woman, Patricia Ward, attempted to conceal a pink purse.
Police then asked to search the purse, and found a variety of drug including five syringes, a pill bottle containing what appeared to be methamphetamine, one hydrocodone pill, as well as other drugs and paraphernalia.
Both were arrested and taken to the Hawkins County Jail. They are expected in General Sessions Court August 28th.
Courtesy of Image: Hawkins County Jail