Court report: Gate City man convicted of abduction, assault violated protective order 12 times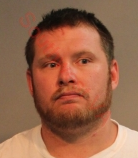 A Gate City man who violated a protective order 12 times is sent to prison for 7 years.
Carl Brock Walker, 32, had previous convictions for a number of violent crimes including two domestic assaults, strangulation and abduction. He was arrested last August after the same victim was dragged through her house by her hair after Walker broke in.
Police also said he choked and punched her repeatedly before she was able to break a window and flee the scene.
(SWVRJ)