Emory & Henry offensive coordinator Graham Clark resigns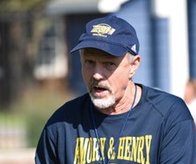 Emory and Henry College athletics has announced that football offensive coordinator and former Dobyns Bennett head coach Graham Clark is stepping down.
A statement from the school said the reason for Clark's departure was non-life threatening health issues. Clark was named the coordinator in June by head coach Curt Newsome. Those duties will now be handled by offensive coaches Kevin Saxton and Kamden BeCraft.
(Emory & Henry Athletics)