Food City To Partner With Kingsport Organizations That Benefits the New "Miracle Field"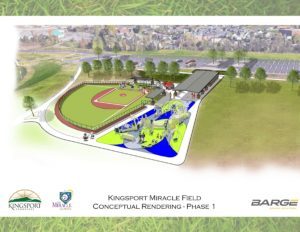 Food City is partnering with the Kingsport Chamber and Visit Kingsport to help raise funds for the soon to be complete Miracle Field.
This new baseball field will be the first of its kind in the area, which will provide special needs adults and children a safe place to play. Food City is committing $25,000 to the project over the next five years.
"The community has done a fantastic job raising funds for this important project. Food City is proud to have the opportunity to serve as a collection point to help raise the remainder of the funds needed to bring the project to completion," says Steven C. Smith, Food City's president and chief executive officer.
Beginning Wednesday through September 24th, Food City locations in Kingsport, Church Hill, and Weber City will offer $1, $3, and $5 donation cards that will go towards proceeds for the Field. Completion of Miracle Field is set for the Spring of 2020.
Courtesy of Image: Visit Kingsport