New ADA Compliant Fishing Ramp Officially Open at South Holston Dam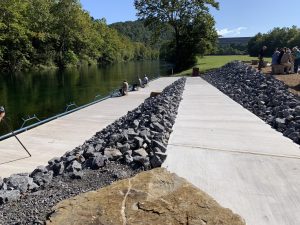 A new ADA compliant fishing ramp is open for fishing at the South Holston Dam in Bristol, TN.
According to Jimmy Lemmond, TVA Recreational Engineer, the idea for this new ramp was brought to attention by individuals from the public. Once TVA secured funding and was able to break ground, the project took about three months to complete. Lemmond says he encourages anyone with ideas to contact them.
"The public calling TVA and making a comment or request does work, we do respond to those things. We don't always get to do projects people ask us to do, but we do take into consideration and see what we can do to help," Lemmond said.
Citizen Bobbie Rouse, who took care of an individual that wasn't able to get to the water, helped to lead the charge along with her brother-in-law Paul Holt to bring up the idea for a better accessible fishing ramp.
Rouse said, "My client Mike loved to fish but couldn't get to the water to fish. We (Bobbie and Paul) sent Mr. Lemmond an email, my brother-in-law called him, and we got it on the road to get this put in here. This something we've needed here a long time."
In addition to the new access ramp, other projects in the South Holston Dam area are in the works or have recently been completed. Randy Short, Forester for TVA, mentions that new trails have been constructed to due heavy public use, including trout fishers and individuals who walk on the South Holston Osceola Island Trail.
"We are getting ready to make an ADA compliant trail that leads downstream from the ramp to the Osceola Island picnic area, pending funding," Short said. He also mentions that work will begin on concreting the trail next month that should get the trail to a nearby boat ramp.
As for other projects in the area, Short says a new five mile mountain bike trail approximately five minutes away from the South Holston Dam is under construction and should be complete either this fall or next spring.
The new fishing ramp is located just passed the Weir Dam on Holston View Dam Road.
Courtesy of Image: T. Adams (Supertalk 92.9 Staff)