Unicoi County Investigators Assist in Drug Arrest of Two NC Women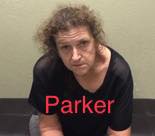 Unicoi County deputies along with Mitchell County, North Carolina deputies have arrested two women in a drug bust.
The Mitchell County Sheriff's Office says the arrest happened on August 28th, and according to Unicoi County Sheriff Mike Hensley, one of his drug investigators assisted in the arrest of Tammy Parker, 52, of Bakersville, and Vickie Thomas, 54, of Bakersville. The arrest occurred at the state line in Iron Mountain, and both women face charges that include possession of methamphetamine, possession with intent to manufacture sale or delivery of meth, possession of drug paraphernalia, with Parker receiving an additional charge of possession of schedule IV.
Both were booked into jail on a $37,500 bond and are scheduled to appear in court later this month.
Courtesy of Image: Mitchell County, NC Sheriff's Office