Arson tipster receives $2,500 for info on Wytheville outlet mall blaze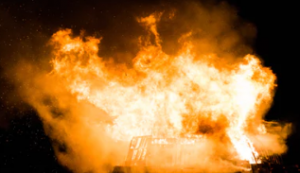 A former Southwest Virginia resident has been awarded a $2,500 reward for giving investigators information about a blaze at a former Wythe County outlet mall that caused thousands of dollars in damage.
Jennifer Petke was lauded for her help by the Virginia State Police and the International Assocation of Arson Investigators.
The April 2018 fire at the former Factory Merchants outlets leveled several buildings and resulted in three suspects being convicted.