Bristol Virginia FD swiftwater rescue team tapped for Hurricane Dorian duty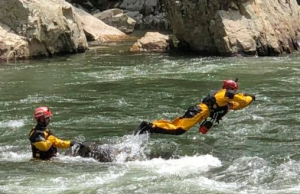 Officers with the Bristol Virginia Fire Department's Swiftwater Rescue Team have been activated by state emergency officials to assist with safety efforts connected to Hurricane Dorian, according to a report from Fire Chief Mike Armstrong.
The team was previously deployed to help residents in West Virginia with monumental flooding in June of 2016. The crew will arrive in Chesterfield to get further information about their mission from the Virginia Department of Emergency Management.
(Bristol Virginia Firefighters Assoc. / Facebook)