JCPD: Man Allegedly Pointed Gun at Victim's Head and Threatened to Shoot Him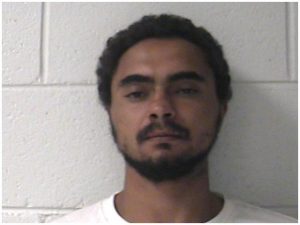 A Johnson City man is in jail on accusations he threatened to shoot a victim in the head.
Quinton Alexander, 23, is facing charges of aggravated assault and being a felon in possession of a handgun. Officers in Johnson City were called to a mobile home park on Mayfield Drive for a disturbance, and later discovered Alexander had put a gun to the victim's head and threatened to pull the trigger. Alexander's felony conviction stems from an aggravated assault charge in the same area earlier this year.
Alexander was taken into custody and transported to the Washington County Detention Center, where he is being held on a $60,000 bond. He is scheduled for arraignment today at Washington County General Sessions Court.
Courtesy of Image: Washington County Detention Center