Child abuse suspect indicted on child porn in Scott County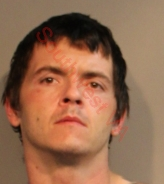 An arrest of a wanted suspect in December has resulted in an indictment by a Scott County grand jury for 95 counts of child pornography.
Harvey Lloyd Napier, Jr., was taken into custody following a traffic stop. Officers discovered that Napier was wanted on several felony counts out of Sullivan County, Tennessee, including aggravated child abuse. Police took his cell phone which was processed and revealed child porn on the device. Napier remains in the Southwest Virginia Regional Jail.
(SWRJA)