One Airlifted, Four Injured in Monday Afternoon Accident in Chilhowie, VA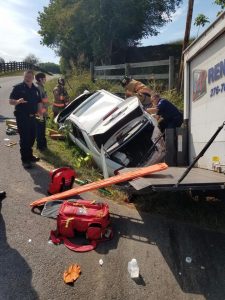 Four people have been transported to the hospital following a head on collision Monday in Chilhowie.
According to the Chilhowie Fire and EMS Department, they responded to a head on crash just after 3 o'clock at the intersection of Cherokee Lane and Tattle Branch Road. Of the four injured in the accident, one was airlifted to a hospital following a lengthy extrication process.
The conditions of the four injured are unknown as of Tuesday morning. We will update as information becomes available.
Courtesy of Image: Chilhowie Fire & EMS Department