UPDATE: Suspect in Hurley, Virginia shooting death goes to trial in 2020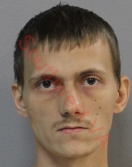 Court documents show a Buchanan County, Virginia man has been arraigned in a murder case and is scheduled to go to trial early next year.
Jeremiah Russell May is charged in the March 6th shooting death of Matthew Hurley that took place in the Paw Paw community. Sheriff Ray Foster said a preliminary investigation showed May shot Hurley then turned the gun on himself. May's trial is set for February 10.
(SWVRJ)