Judge: Mined Blackjewel coal stays put until Sept. 20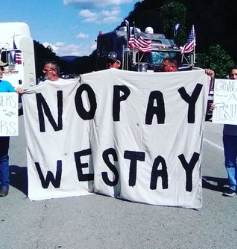 A federal judge in Abingdon has entered another order to keep coal mined at Blackjewel operations in Southwest Virginia sitting on railroad tracks.
This current directive will last until September 20 as creditors and bankruptcy officials continue to sort out the sale of Blackjewel's holdings. The federal suit was filed last month by acting Secretary of Labor Patrick Pizzella in an effort to collect wages for coal miners who were not paid when Blackjewel filed for bankruptcy in July.
(Blackjewel Miners Blockade / Twitter)