UPDATE: Florida fourth-grader with inspiring UT t-shirt design gets full scholarship offer to Knoxville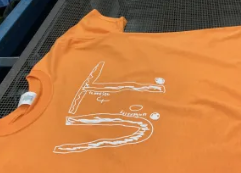 The Florida youngster whose University of Tennessee T-shirt design has become a best seller has been offered a full, four-year scholarship by the school.
In a release issued Thursday, UT said the fourth-grader will have all tuition and fees paid for should he choose to attend beginning in the fall of 2032. The student's teacher featured the child's story on social media—telling readers the boy was bullied because of his homemade logo. UT officials said that 50,000 t-shirts featuring the boy's design have already been pre-ordered.
The proceeds from the sale of the shirt will go to the Stomp Out Bullying campaign.