Greene Co. Commission Votes in Favor to Censure Commissioner Clifford Bryant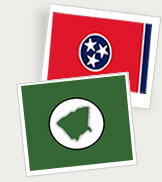 The Greene County Commission has voted to censure a commissioner who has unpaid taxes and student loans.
A 15-3 vote was cast Monday night to censure Commissioner Clifford Bryant, who was not removed from the commission, but rather given a formal disapproval by other commissioner of his behavior. A commission packet revealed that Bryant owes over $11,000 in property taxes. Court documents also revealed he owes on student loans dating back to 1996.
Courtesy of Image: Greene County, TN