Mitch Cox Companies Announces "The Henry" Project Following Building Purchases in Downtown Johnson City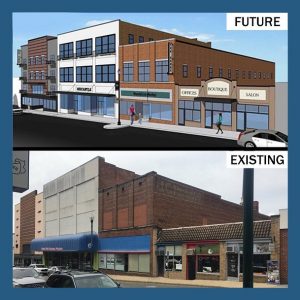 New plans are in the works for a mixed-use development at buildings along East Main Street in Johnson City.
Mitch Cox Companies announced Thursday an affiliate has purchased the property and will begin on the project, named "The Henry." This is a two phase plan that looks to add office, retail-space, and residential units. Phase one of the project is scheduled to begin in 60 days at 319 and 323 E Main Street. This will include 2,400 square feet of retail space at 323 E Main St, while 5,000 square feet of retail/living units with parking are planned at 319 E Main St. Phase two will include 15,000 square feet of retail space along with 20 living units and parking at the sites of 309 and 313 E Main St.
The project is named in honor of Johnson City's founder, Henry Johnson.
Courtesy of Image: Mitch Cox Companies