TN Division of Forestry Requiring Burn Permits Early with Dry Conditions Affecting Parts of the State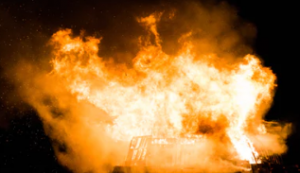 The Tennessee Division of Forestry will require citizens to obtain burn permits beginning next Monday following prolonged dry conditions.
Usually, burn permits are only required during fire season, which runs from October 15th to May 15th, however, this move is taken as a precautionary measure for outdoor burning with dry and hot conditions affecting most of the state. Officials have a list of safety measures to take for those burning outdoors, including monitoring weather conditions when choosing to burn.
These safety precautions are listed below:
Select a proper location away from steep slopes, forested or dry, uncut grassy areas.
Establish a control line around your fire, down to bare dirt, before you burn.
Notify neighbors as a common courtesy.
Have tools on hand such as a leaf rake and garden hose to control your fire.
Watch for changing weather conditions as winds can blow your fire in the wrong direction.
Stay with your fire until it is completely out. It is illegal to leave an open fire unattended.
More information is available at tn.gov.