Authorities Arrest JC Man on Drug, Weapons Charges after allegedly finding Him Asleep in his Vehicle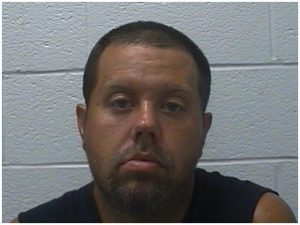 A Johnson City man is facing numerous charges after authorities say they found him asleep at the wheel and rolling into traffic.
Police were called to the Shell convenience store Saturday afternoon and found Russell Smith, 36, asleep in his vehicle and rolling into traffic on the Bobby Hicks Highway. Authorities interviewed the subject, who they say gave them incoherent responses. A search of his vehicle found drugs and paraphernalia including methamphetamine and a weapon inside. Additionally, it was found he was driving on a suspended license.
He was arrested and taken to the Washington County Detention Center where he was held on a $34,000 bond. He is scheduled to appear in Washington County General Sessions Court today at 1:30 p.m.
Courtesy of Image: Washington County Detention Center