Bristol, VA Council Members Reject Rezoning Request for RV Park Proposal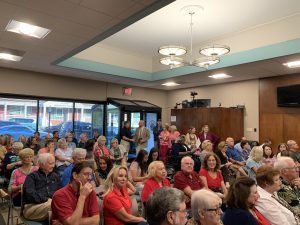 The Bristol, Virginia City Council has voted to reject a proposed RV Park along residential property near Long Cresent Road. The council met Tuesday night and unanimously voted against a request to rezone 19 acres of land from residential to business property. Council member Kevin Wingard abstained from the vote. The council chamber was packed with residents against the proposal, who voiced their concerns against bringing a camping business close to their neighborhood. Neal Osborne, Bristol City Mayor, had this to say regarding the proposal.
"I had some reservations with the plans to add RV language into the zoning ordinance I was pushing for stringent regulations on it, because I feel like you go down a slippery slope when you have temporary housing and who policies how long someone stays and what they can do there, so its a slippery slope to go down and you have to be very careful," Osborne said.
Rachel Gibson, Long Cresent LLC member, was also at the meeting, and following the decision, expressed concern that the city's lack of funding hurts addressing road infrastructure issues along Long Cresent.
"The city, they can look here and look there, but unless there is a huge development like the casino, that may or may not be coming, I don't see where they could find the money," said Gibson.
Gibson did not indicate whether Long Cresent LLC would start looking for other undeveloped land to propose the camping business.
Courtesy of Image: T. Adams/Supertalk 92.9