JCPD: Two North Carolina Men Jailed on Several Charges Following Alleged Weekend Robbery of Wine Shop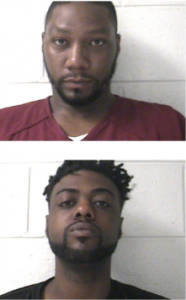 Two North Carolina men are in jail after allegedly robbing a wine shop in Johnson City.
Charles Johnson III, 34, of Asheville, NC, and Wesley Vaughn, 26, of Charlotte, NC, face numerous charges including aggravated robbery, convicted felon in possession of a handgun, evading arrest, and possession of stolen property. Johnson City Police say the armed robbery occurred last Friday at Universal Wines, and upon locating the two suspects in a stolen vehicle, they attempted to stop them. A short pursuit ensued before both men were captured.
The two men were taken to the Washington County Detention Center where they were each held on a $50,000 bond. Both appeared in Washington County General Sessions Court Monday afternoon.
Charles Johnson III
Wesley Vaughn
Courtesy of Image: Washington County Detention Center