Lee County Hospital Authority Votes to Approve Agreement with Ballad Heath, Hospital Set to Reopen Under Ballad Leadership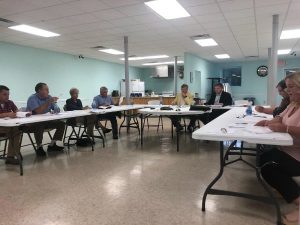 An agreement has been put in place with Ballad Health to reopen the Lee County Hospital.
The Lee County Hospital Authority met Monday night and gave approval to reopen under the direction of Ballad Health. This comes with a plan by Ballad to open a new Urgent Care in Pennington Gap in October, that will transition its employees to a new emergency room once the hospital reopens, which is slated for the fall of 2020.
The hospital has been closed since 2013 and attempts to reopen with Americore fell through earlier this year, prompting officials to begin working with Ballad, which now appears to be all set to reopen the hospital.
Courtesy of Image: Lee County Hospital Authority (Pictured: Commissioners during Monday night's meeting)