SHARE: Kingsport police searching for missing woman with dementia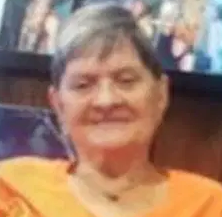 UPDATE: McCracken has been found "safe and sound" according to a report from the KPD.
An endangered adult alert was issued by the Kingsport Police Department after a Blountville resident was reported missing Tuesday afternoon.
Louise McCracken, 79, was last seen walking in the area of Brookside Pharmacy, 1901 Brookside Drive, around 10:30 a.m. Tuesday morning.
She is 5 feet 5 inches tall weighing 179 pounds with brown hair and brown eyes. Police said she was last seen wearing a white shirt with red stripes, blue jeans and sandals. The department also said she could be traveling with her adult daughter Marcella Devane in a white late model GMC SUV.
Anyone with information on McCracken's whereabouts can call (423) 246-9111.