Washington County Commission Gives Approval on Proposed School and Recreational Facility in Jonesborough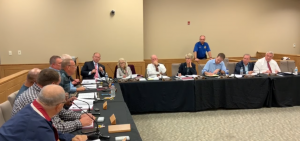 The Washington County Commission has approved an amended plan to move forward with a proposed build of a new K-8 school and recreational facility in Jonesborough.
The Commission met last night and received approval from 13 commissioners, with one absent and one abstaining. The plan calls for Washington County to lease both the school and facility, and at the end of the lease, Washington County would own the school, while the town would own the recreational facility. The projected cost for both the school and facility is around $32 million.
Commissioners approved a motion to discuss the matter further in a special called meeting no later than October 17th.
Courtesy of Image: Washington County Commission Meeting Livestream