Bristol, TN Dispatcher Awarded for Life-Saving Efforts During March 2018 Phone Call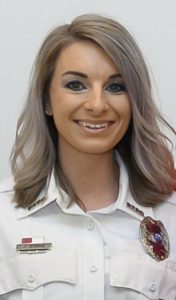 A dispatcher with the Bristol, TN Police Department is being recognized statewide for her efforts to save a life during an emergency call.
Jessica Donihe, who is a four year veteran with the department, was honored by the Tennessee Department of Safety & Homeland Security during the first responder recognition awards on September 11th. She received a call for help one night in March of last year, and after asking several questions without getting any response, she redialed the number several times, and was able to pinpoint a location, where police found a woman who had tried to commit suicide.
"I received a call and knew immediately that it was an emergency call for help," Donihe said. "It was more of a gut instinct than anything."
Donihe's actions ultimately saved the woman's life.
Courtesy of Image: City of Bristol/Jessica Donihe