Extreme dry conditions causes house fire to grow to 80 acre blaze in Dickenson County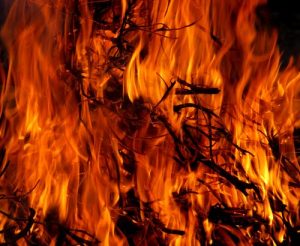 Evidence of extremely dry conditions in Southwest Virginia made evident Wednesday as firefighters from Dickenson County and the state's Division of Forestry were called in to quash a blaze that began as a house fire some 7 miles outside the town of Haysi and grew to more than 80 acres by late afternoon.
The county's Emergency Management Agency director Richard Thacker: "We've got two dozers and the Department of Forestry to try and suppress the fire. We declared a local disaster and put a burn ban in place because of the dry conditions, and yes, it is very, very dry."
Thacker noted that the house was a total loss and three other homes in the line of the fire were protected by workers.