UPDATE: Miners posted on train tracks at Blackjewel property heading home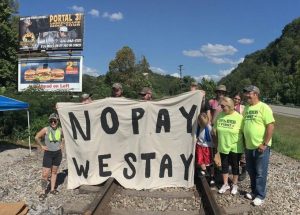 A group of miners from Eastern Kentucky and Southwest Virginia who made national headlines by forming a blockade on railroad tracks to prevent coal from being shipped out of Blackjewel property have ended their protest.
That news was announced by the non-profit organization With Love From Harlan, a group that has been assisting the miners since their rally began in July.
The workers who adopted the motto 'No Pay We Stay' camped out on the tracks near Harlan for nearly two months after their last paychecks were either not delivered or bounced after Blackjewel filed for bankruptcy. The case for the miners' back pay is still tied up in federal courts.
(Blackjewel Miners Blockade / Twitter)