Weekend Fire at Abingdon Businesses Under Investigation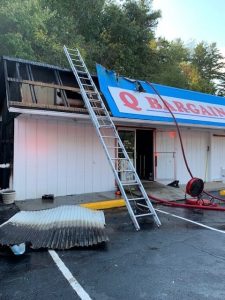 A weekend fire to a business in Abingdon is under investigation.
According to a release from the Abingdon Fire Department, crews were dispatched to Jimbo's and Q Bargain Outlet around Saturday afternoon, and as crews arrived, heavy smoke was showing through the whole structure. Crews were able to contain the fire without it spreading to any other structures, however the Q Bargain Outlet building suffered heavy smoke damage. No injuries were reported as all occupants were able to escape safely.
Courtesy of Image: Abingdon Fire Department