Sullivan County Commissioners With Backs Against The Wall Approve School Maintenance Of Effort Funds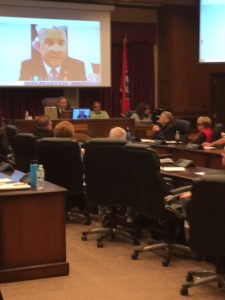 (: )…WHAT WE WANT TO DO MORE THAN ANYTHING IS URGE YOU TO DO WHAT MUST BE DONE…THE DEADLINE HAS ALREADY BEEN PASSED WE HELPED BUY YOU SOME TIME TO GET THIS THING DONE. YOU HAVE A VERY LIMITED TIME LEFT BEFORE BEP PAYMENTS HAVE TO BE HELD.
That was part of the old fashioned scolding Assistant Deputy State Comptroller Jason Mumpower gave Sullivan County Commissioners and the Sullivan County Department of Education Wednesday night over their handling of an 800 thousand dollar gap in funding that nearly brought the school system to a temporary close. Mayor Richard Venable and county commissioners got the hint and voted in favor of adding 800 thousand dollars to the school systems maintenance of effort. Venable says his office and the commission will be working closely with the state to prevent this situation from occurring again.
(: )…WE WERE ACTUALLY FLYING BLIND WHEN THIS HIT ADN WE DIDNT KNIOW WHAT HED BEEN SUBMMITTED TO NASHVILLE.
Sullivan County Director of Schools Dr. David Cox was pleased with the effort.
(: )…WE STILL NEED TO CONSULT WITH COUNCIL AND THE SCHOOL BOARD WILL VOTE ON IT.
The school board votes on the issue tonight.