Five Injured in Thursday Tractor Trailer/Suburban Accident on I-81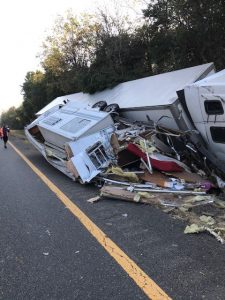 Five people, including two children are hospitalized following an accident Thursday afternoon on Interstate 81 in Jefferson County.
The Tennessee Highway Patrol says a suburban, driven by Ryan Federici, 39, was traveling northbound alongside a tractor trailer, when the vehicle lost control and collided into the trailer, causing both vehicles to crash into the ditch. The suburban traveled under the tractor trailer and rolled over before coming to a rest. All five passengers in the suburban were taken to the UT Medical Center to be treated for injuries. One of the passengers was listed in critical condition. No further information regarding the condition of the five injured have been released as of Friday morning.
The driver of the tractor trailer was not injured. Charges are pending against Federici.
Courtesy of Image: Mark Nagi/TDOT