TBI Conducting Search of Two Missing Memphis Teens, May Have Ties to East TN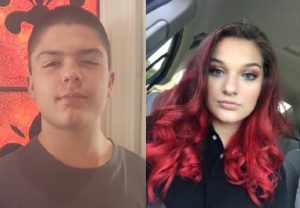 The Tennessee Bureau of Investigation has launched a statewide endangered child alert for two Memphis teens missing that may have ties to the East TN area.
Joseph Fitzgibbon, 15, and Angela Helms, 17 have both been missing since September 1st, and investigators say they both have medical conditions and are without medication. Fitzgibbon is described as a white male standing five feet five inches tall, weighing 160 pounds, with brown hair and brown eyes. He was last seen wearing a black shirt and gray shorts. Helms is described as a white female standing five feet four inches tall, weighing 133 pounds with brown hair and brown eyes (Pictured with red hair in the photo release by TBI). She was last seen wearing light blue pajama pants and a white t-shirt.
Anyone with information on the location of the teens should call Memphis Police at (901)-528-2274 or the TBI at 1-800-TBI-FIND.
Courtesy of Image: Tennessee Bureau of Investigation