UPDATE: New court filings earmark millions for Blackjewel miners' paychecks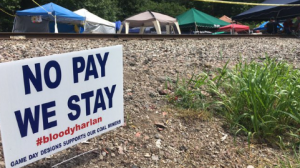 Coal miners in Southwest Virginia who were short-changed when Blackjewel coal company went bankrupt earlier this summer could be getting paychecks in the near future.
Filings in federal bankruptcy court in West Virginia show new stipulations including $3.4 million set aside from the purchase of Blackjewel property to be earmarked for miner pay. Another court hearing in Charleston for the purchase process is scheduled for Wednesday.
(BlackJewel Miners Blockade / Twitter)