Man Charged in September Stabbing Incident Has Case Bound Over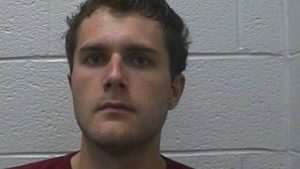 A Washington County, TN man accused of stabbing an individual multiple times will have his case heard by a grand jury.
Tyler Penley, 28, was arrested by Washington County deputies in September and charged with attempted first degree murder. During an interview with investigators, he said voices told him to commit the violent act. Following the incident, the victim was airlifted to the hospital to be treated for serious injuries. Penley's case was bound over last week, and is scheduled to make his first appearance in Criminal court December 2nd.
When Penley was transported to the Washington County Detention Center, a press release stated that Penley was under suicide watch. Jail officials confirmed Tuesday morning Penley is no longer on suicide watch.
Courtesy of Image: Washington County Sheriff's Office