ARC Awards Northeast State $1.5 Million Towards Growth of Aviation Program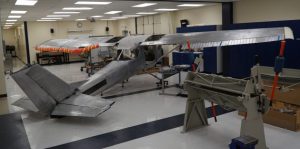 The Appalachian Regional Commission has awarded Northeast State a grant of more than $1.5 million to help expand its Aviation Technology program.
A release from the college says funds will go towards building a new aircraft hangar at the next door Tri-Cities Airport, in addition to securing FAA Airframe and powerplant program certification. The Tri-Cities Airport Authority has committed to helping with the project, announcing they are funding $500,000 to the three year project, which hopes to serve eight businesses and help achieve success at the Tri-Cities Aerospace Park, which broke ground last October.
"There is a tremendous need nationwide for aviation mechanics and technicians, so this is wonderful news for the College and its economic partners," said Dr. Bethany Flora, Northeast State president. "The grant will greatly expand our Aviation Technology program and grow workforce development opportunities throughout the region and beyond."
This is one of 54 grants awarded by the ARC to help revitalization efforts in areas affected by loss of coal mining jobs, coal mine operations, and the coal industry as a whole. The 54 grants total nearly $45 million. The Aviation Technology program at Northeast State hopes to help grow the high in-demand field of aeronautic mechanics and technicians regionally and nationwide.
Courtesy of Image: Northeast State Community College/Aviation Program at Campus in Gray