SCSO: Man Allegedly Stole Vehicle from Kingsport Business, Faces Several Charges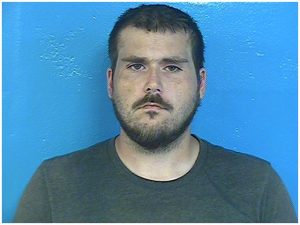 A man is in jail facing charges after police locate him in a minivan stolen from a Kingsport business.
The Sullivan County Sheriff's Office says they were alerted by Hagy's Auto Sales about an auto theft and burglary, and surveillance footage captured a male individual taking a 2003 blue Dodge Caravan from the business. On Wednesday, authorities located the vehicle, and determined that the driver, Jonathan McClure, 34, of Kingsport, matched the male who took the vehicle in the video. He was arrested on burglary, theft over $1,000, theft under $1,000, possession of schedule 3 narcotics and other charges.
He remains behind bars in the Sullivan County jail.
Courtesy of Image: Sullivan County Sheriff's Office