Five Charged in Alleged Burglary at Johnson City Home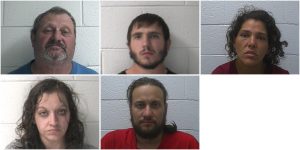 Five people are charged following an alleged burglary over the weekend at a home in Johnson City.
According to the Johnson City Police Department, they were called to a home at the 100 block of East Maple Street, and found damage to windows, a door, and a lock. Inside, they found five suspects and the contents of the home reportedly ransacked. Authorities have charged the following for aggravated burglary:
Michael Wheelock, 35
Morgan Web, 36
Kayla Liskey, 28
Jesse Taylor, 20
Harry Sparks, 53
All five suspects were transported to the Washington County Detention Center where they were being held on a $2,000 bond. They are scheduled to appear in Washington County General Sessions Court for arraignment today at 1:30 p.m.
Courtesy of Image: Washington County Detention Center