State game officials: No current plans to expand elk herd in SW Virginia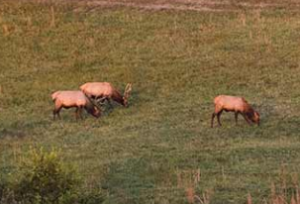 A recent report completed by state game officials says there are no current plans to expand the number of elk in Virginia.
A elk management plan drafted by the Virginia Department of Game and Inland Fisheries said the animal's population has grown from 20 to 75 in the elk restoration areas of Buchanan, Dickenson and Wise counties since they were first reintroduced into the commonwealth in 2012.
Some elk had already migrated from nearby Kentucky prior to the restoration. While hunting elk is currently banned, a survey of Southwest Virginia residents showed a majority of those favor letting hunters harvest the animal when the herd reaches satisfactory levels.
(VDGIF)