Man Injured in Serious Accident Monday Night in Sullivan County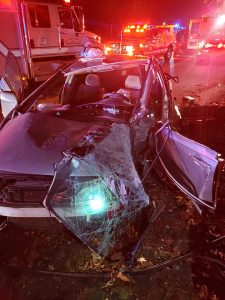 A man was extricated from his vehicle following a serious accident Monday night in Sullivan County.
According to the Bloomingdale Volunteer Fire Department, they were called to a crash involving an entrapment of a driver, and following arrival, crews worked for nearly 20 minutes to successful extract the driver. Emergency officials say he sustained a broken right leg, and was transported to a local hospital for surgery.
The Kingsport Life-Saving Crew, Sullivan County EMS, and the Sullivan County Sheriff's Office all responded to the scene.
Courtesy of Image: Bloomingdale Volunteer Fire Department