Driver Airlifted Following Wednesday Night Tractor-Trailer Crash in Smyth County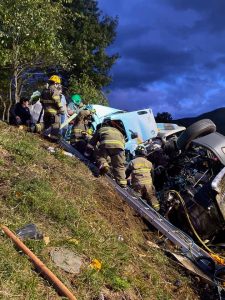 A driver was airlifted to the hospital following a tractor trailer crash Wednesday night in Chilhowie, VA.
The Town of Chilhowie Fire and EMS says they were called to the intersection of White Top Road and Ramblewood Road, where they found a tractor trailer carrying pumpkins overturned. A Facebook post from the department says they believe the tractor had lost brakes, ran over a guardrail into a culvert, and overturned. Crews worked for over two hours to extract the driver before being airlifted. Officials say multiple other crews worked the crash, including the Adwolfe Volunteer Fire Department, Marion Fire Department, Smyth County Sheriff's Office, and Virginia State Police.
Supertalk reached out to Virginia State Police to obtain a crash report, but officials say they are still working to complete one. The condition of the driver is unknown.
Courtesy of Image: Town of Chilhowie Fire & EMS/Facebook