VDOE Denies Virginia Middle School Accreditation Appeal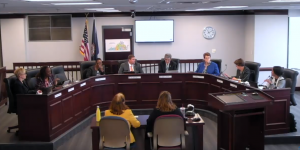 An appeal by Bristol, Virginia school officials regarding a Virginia Department of Education accreditation ruling to Virginia Middle School has been denied.
Keith Perrigan, Bristol, VA Schools Superintendent and Jason Matlock, Virginia Middle School Principal, appeared in Richmond Thursday morning to cite their case that the school should receive full accreditation. The department accredited Virginia Middle with conditions, flagging them for the school's English scores. School officials mentioned when they calculated scores, they used Student Growth and Recovery scores for pass rate and failure rate, and found that they would've reduced failure rate in English in the students with disabilities category by 13%, qualifying them for full accreditation. They also cited that in the last four years, students with disabilities have made strides in pass rates in English, increasing scores from 33% in 2016 to 51% in 2019.
The department of education only calculates the pass rate, rather than both the pass and failure rates. Board members discussed the appeal, and commended school officials for showing support for their students, however they cited that they must maintain the integrity of their accountability system, ultimately voting to deny the appeal.
Courtesy of Image: VDOE Meeting October 17th Livestream