Suspect at large following Abingdon pursuit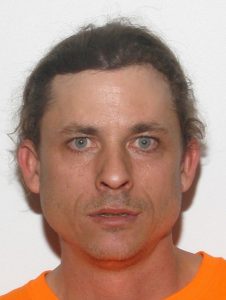 Law enforcement officials continue their search for a convict who fled from authorities near Abingdon Friday morning that resulted in Abingdon High being placed on lockdown.
US Marshals and the Virginia State Police set up a perimeter for George Allen Russ, 42, after he dashed out of a vehicle used in a pursuit that spread over several miles, ending near Rich Valley Road and Toole Creek Road. Russ had reportedly arrived for a probation hearing and their offices learned Russ was wanted in Sullivan County.
A report from Washington County, Virginia Sheriff Fred Newman said a three hour search that included K9 officers ended when the canines lost the suspect's scent.
Russ fled the scene when deputies pulled in the parking lot. Anyone with information on the whereabouts of Russ can call local law enforcement.
(WCSO VA)