Budweiser Clydesdales to Appear in Tri-Cities December 4th-7th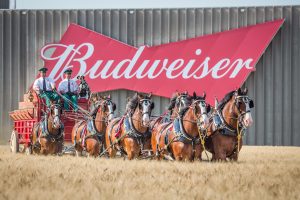 The world famous Budweiser Clydesdales are scheduled to appear in the Tri-Cities in December.
According to a news release, the horses will be in a number of locations in the region, starting with an appearance at the Food City in Erwin on December 4th. They will then be apart of the Bristol Christmas Parade on December 5th, followed by one horse show at the Johnson City Christmas tree lighting on the 6th, and will make their final appearance December 7th as apart of the Johnson City Christmas Parade.
A full schedule of the Clydesdales appearance can be found below:
Wednesday, December 4th @ 4:00 PM
Food City #625
110 N. Industrial Drive
Erwin, TN 37650
Thursday, December 5th @ 5:00 PM
(Clydesdales will be leading the parade)
Bristol Christmas Parade
Starts at Bob Morrison Blvd.
Bristol, TN 24201
Friday, December 6th One-Horse Show @ 5:00 PM
Christmas Tree Lighting
Downtown Johnson City
King Commons
Saturday, December 7th @ 9:00 AM
Johnson City Christmas Parade
Starts at 300 E. Main Street #406
Johnson City, TN 37601
Courtesy of Image: Annheuser-Busch