Superintendent: Large tree strikes school bus with children aboard in Dickenson County, Virginia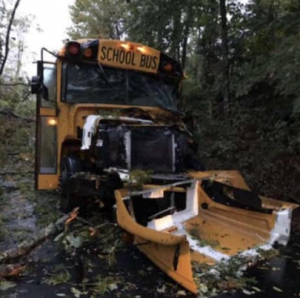 Officials with Dickenson County, Virginia Public Schools said there were no injuries reported after a tree fell on a school bus that was transporting students early Tuesday.
A statement from Superintendent of Schools Haydee Robinson said a large tree struck the bus on the driver's side of the vehicle while traveling on Little Caney Road in the Caney Ridge community. Robinson noted that a school nurse who lived nearby examined the students and driver before they were loaded onto another bus and taken to school.
Transportation supervisor Burl Mooney said, "God's protection was with the children and the driver traveling on the bus" and that it could have been much worse.
(PHOTOS: A. Mullins / Special to SuperTalk 929)