Crews on Scene of House Fire in Bristol, Virginia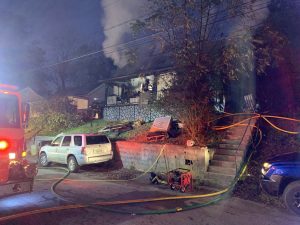 The Bristol, VA Fire Department and other areas crews are working a house fire that occurred early Thursday morning.
According to Donald Farley, Bristol, VA Fire Department Battalion Chief, they were dispatched to a house fire at the 1100 block of Vermont Avenue just after 5:00 a.m. He says two occupants were inside, and were able to escape safely before calling 911. As of 7:15 a.m, crews were still battling the fire, and Farley says one firefighter was taken to the hospital to be treated for non-life threatening injuries. The Red Cross has been notified. Multiple agencies including the Bristol, VA Fire Department and Bristol, VA Police Department are on scene.
We'll keep you updated on this developing story.
Courtesy of Image: T. Adams/Supertalk 92.9