Leaders in Jonesborough and Washington County Gear Up for Monday Night Commission Meeting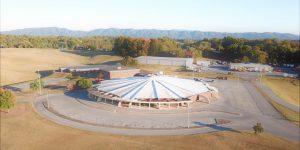 The Washington County Commission meeting is set for next Monday, and a part of that meeting could see a plan years in the making become a reality.
The Town of Jonesborough is seeking a new K-8 school and athletic facility, as negotiations between the leaders with the town and Washington County went back and forth to settle on one final hangup on the proposal, the overall price. During a conversation with Supertalk Thursday, Jonesborough Mayor Chuck Vest expressed concern about the long term plans of the deal if the Commission approved the proposal with a price that's below $32 million. His worry is that commissioners could possibly have to come back in the future and vote to allocate more money. "If Mayor Grandy wishes to limit the cost of the project, that's best done by the design committee he will be apart of, as I will be as well," Vest said.
Supertalk also spoke with Washington County Mayor Joe Grandy, who says the county has built their financial models based on the original $32 million proposal presented to them by the Town of Jonesborough, and feels confident that a site can be developed, as well as a building built for that amount of money. "We believe we can do it (develop site and build building) without going to the citizens of Washington County for a tax increase, and I'm optimistic we can get a great product in Jonesborough," Grandy said.
As of Thursday, the proposed project has four agreements: an inter-local agreement between the town of Jonesborough, Washington County, and the Washington County Board of Education; a building lease agreement projected at a maximum cost of $32 million on a fixed rate of 3% not exceeding 38 years; a facilities agreement at a yearly cost of $500,000 not exceeding 38 years; and a purchase option agreement that allows Washington County to purchase the building from the Town of Jonesborough.
Commissioners will consider and possibly vote on the project next Monday at 6:00 p.m.
The latest terms are available here.
Courtesy of Image: Washington County Department of Education/Jonesborough School