Police: Man Accused of Shooting Victim with pellet gun and attempted carjacking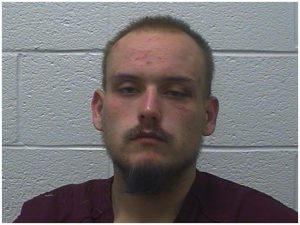 A Johnson City man is charged after police say he allegedly attempted to steal a victim's vehicle then shot the person with a pellet gun.
Authorities were called to a service station on North Broadway Street earlier this week, where a victim told officers when he was pumping gas, when he was approached by a man later identified as Dalton Gill, 19. The victim says Gill showed him a firearm and demanded his keys, and then was shot in the back as he attempted to run from Gill. The victim was able to call 911 at a nearby local church. He was taken to the hospital to be treated for injuries.
Police later found the suspect and placed him under arrest. Gill was charged with attempted carjacking and aggravated assault. He is scheduled to appear in court next Thursday.
Courtesy of Image: Washington County Detention Center