Police Arrest Man for Alleged Incident Involving Gun at Johnson City Sports Bar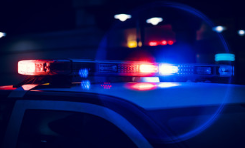 A Kingsport man is facing felony charges after police say he allegedly waved a gun at people at a sports bar.
Johnson City Police say they were called to Overtime Sports and Social over the weekend to a reported fight in progress. Security advised authorities that a man, later identified as Calvin Phillips, 31, brandished a gun and waved it at people while making threats. While searching Phillips, the suspect attempted to flee on foot, before being caught a short time later. A Smith & Wesson M&P was recovered at a nearby Applebee's that Phillips is accused of discarding. He was charged with Felony Reckless Endangerment, Evading Arrest, Resisting Stop Frisk, Unlawful Possession of a Weapon, and Possession of a Handgun While Under the Influence.
He is being held in the Washington County Detention Center on a $14,000 bond and is scheduled to appear in court today at 1:30 p.m.