Rogersville Man Indicted on Child Sex Charges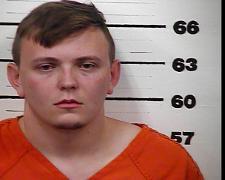 A Rogersville man is facing child sex charges for separate incidents involving a twelve year old.
According to court documents from Hawkins County Criminal Court, Michael Jeremiah Franklin, 22, is charged with two counts of rape of a child and and one count of aggravated sexual battery. A presentment says Franklin allegedly raped a then twelve year old twice in December of 2017. He is also accused of aggravated sexual battery during the same month. A Hawkins County grand jury indicted Franklin on the charges on October 1st.
He is being held in the Hawkins County jail.
Courtesy of Image: Hawkins County Jail